2022-10-16 Version 1.10.94 released
Wake on LAN integrated into FIRSTWARNING, you can now wake up your sleeping devices
---
---
2022-09-12 Version 1.10.93 released
Nextcloud Talk integration – Now available to send alarms via Nextcloud Talk
---
---
2021-12-25 Version 1.9.87 released
A request from a customer came in, they asked if there could be a function to remind within an interval if there were some devices that still were down. Request has been approved and is ready in the new version. There was also a small bug in the Schedule procedure that has been fixed in this version. Continue to survey your own devices from your own device!
---
---
Upgrades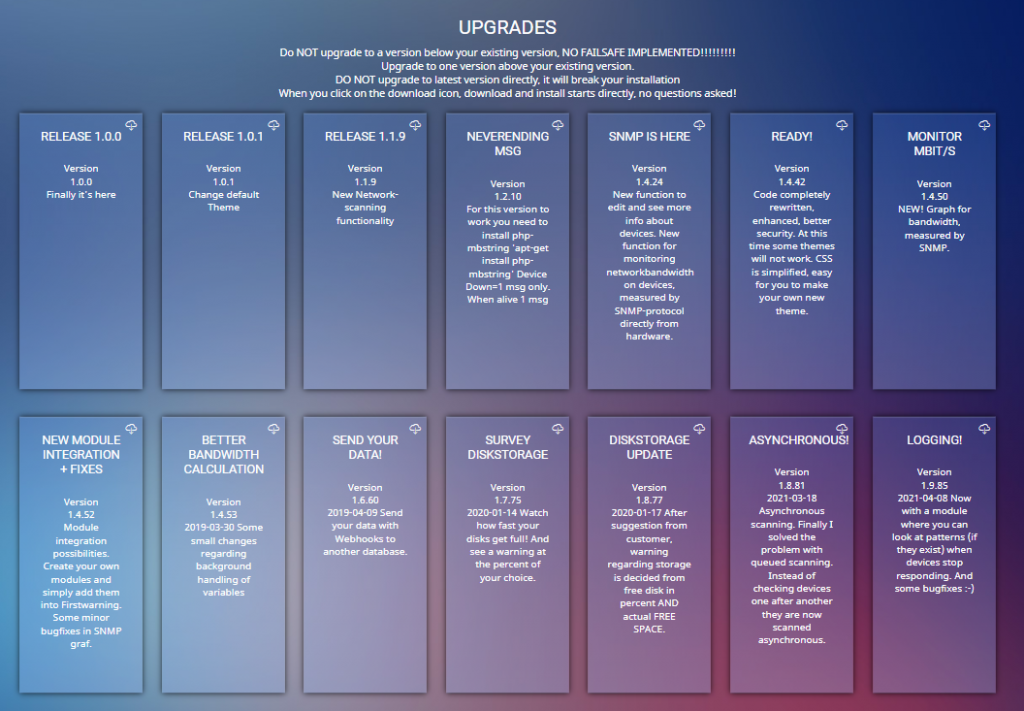 This is just a preview of how the download page looks like when you have a license. I know that information about FIRSTWARNING is hard to find, and my intention is to remedy this when I have time. But as you all know, time is hard to find! So instead just try FIRSTWARNING out instead.
I believe you can make a new total install in about 1 hour, and that includes installing Linux on a box or in a virtual environment. If you have any problems installing send a question in this Telegram group https://t.me/joinchat/AAAAAA4XUQJXnzmq_HRGhg and I will try to help.
As you can see below some modules are also available. These are really simple to create if you want to create them by your self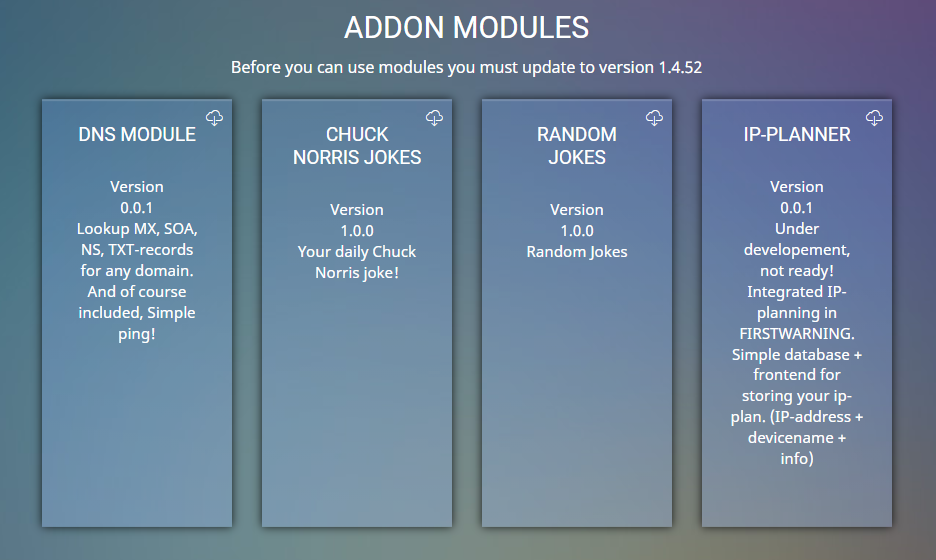 ---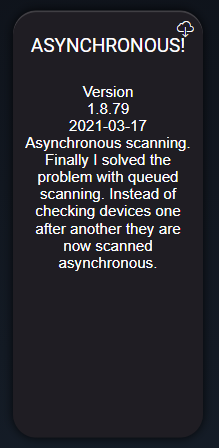 2021-03-17 Version 1.8.79 released
A major breakthrough has been done, I figured out how to make the checking of devices asynchronous.
Before scanning/checking devices were based on a queue, and if you had a lot of devices to scan, then the first scan was not finished before the next scan started. Due to this you could get several alarms for the same device.
This has been solved (I think) with the asynchronous scan.
Update to latest version and let me know what you think!
---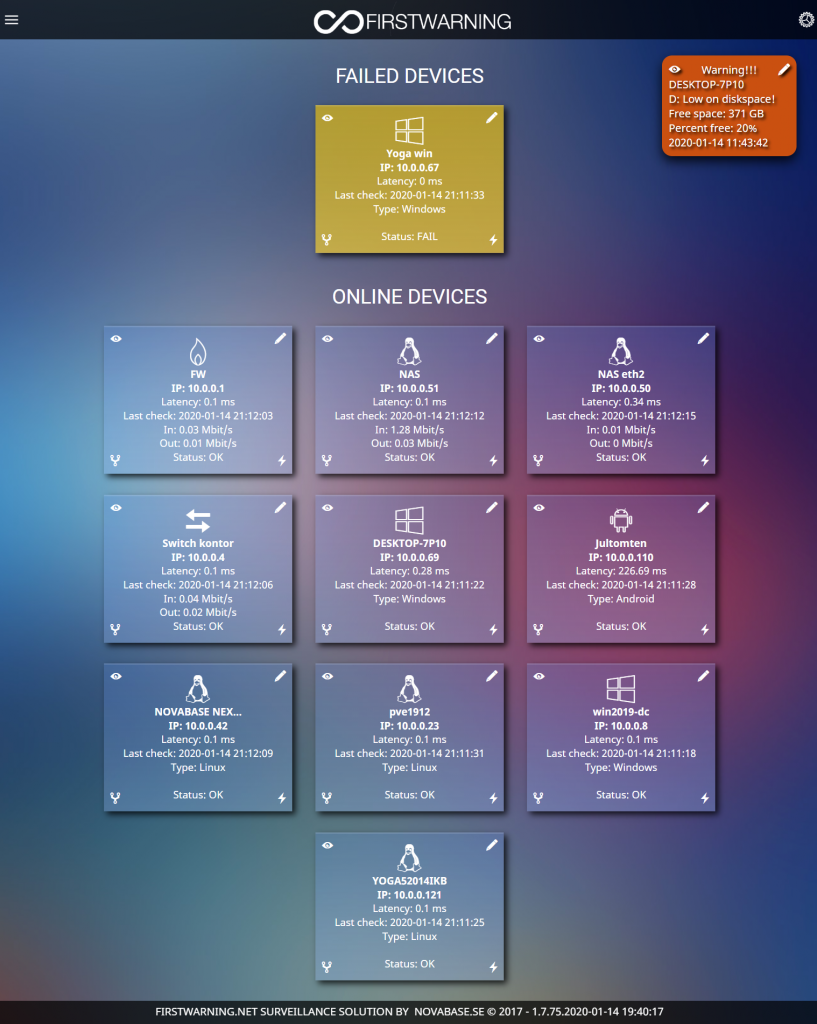 Update released 2020-01-14 Version 1.7.75
It has been a while!
But I have been working all the time. Not all the time, the normal day job takes the power out of me sometimes, and then I don't work all night 🙁
There are a lot of new changes:
Survey your disk storage, get warnings when free disk space is less than you want.
Rebuilt large chunks of code to make it easier to develop.
I moved the development structure to new hardware, based on Proxmox. Running on my own servers and storage.
I also created a new watchface for my new Garmin Fenix 5X Plus
NOVABASE FENIX5PLUS it has nothing to do with FIRSTWARNING, except took some time of this project.
---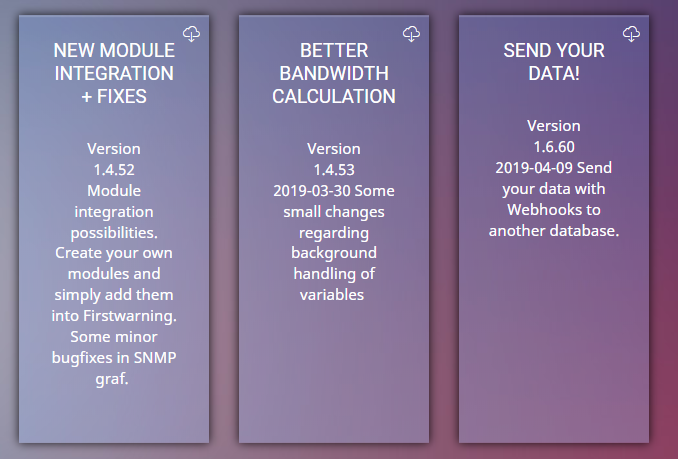 2019-04-10
Since last news a lot has happened with FIRSTWARNING.
The possibillity to send live data with webhooks has been implemented.

There is now also a simple way to make your own plugins to display and function directly in FIRSTWARNING.

And of course several bugs has been corrected.

(Picture above shows a snippet of the actual page in FIRSTWARNING where you update your version, simple to upgrade, just click the little cloud in top right corner)
2019-02-27
Today we have switched platform from Joomla to WordPress. I don't like it, but I had to do it! Platform for FIRSTWARNING surveillance system is not WordPress or any other framwork, it is completely built by us. It's just this lousy page that we didn't have the time to build from scratch.