Get the first warning first!
What is FIRSTWARNING?
It's a surveillance system built to monitor latency, bandwidth, up-time on all network attached devices.

System is built so that almost anyone can install and configure it.
It's meant to be displayed on a monitor/TV (Looks great!)
Alarms are sent by either Telegram or E-mail or both.
You need to know when network failure happens. And you need to know before your customers/personnel.
FIRSTWARNING is nice to look at when everything is working! When some device looses network connection, it is not so nice to look at if you are an IT technician, still looking good if you are not.
Works on your phone
Surveillance is everything! You need to know what happens even if you only have your phone with you.
Keep track on all devices
Anything that respond to ping or normal web traffic can be monitored.
Firstwarning keeps track of all your devices with statistics and alarms.
We notify you
When a device fail to respond you will get notified. Firstwarning display failures on your TV, sends messages to Telegram and by e-mail.
You can install FIRSTWARNING on a server, in your virtual environment, VMware, Proxmox, ordinary PC or even on a Raspberry Pi.
Installed on your hardware
Do you want to host your surveillance server in the cloud?
– I wouldn't! To control and monitor a device you need to open your network to your cloud provider or the complete Internet community. Is this wise?
What happens if someone outside your company gets access to it?
– Someone will then know all you ip-addresses and the type of devices you have in your network
Be Proud of Your Work
Display your work to your collegues in your office.
Show online status of all the infrastructure devices you manage on a big screen available to everyone in the office.
If all devices are online they will know you are doing a good job.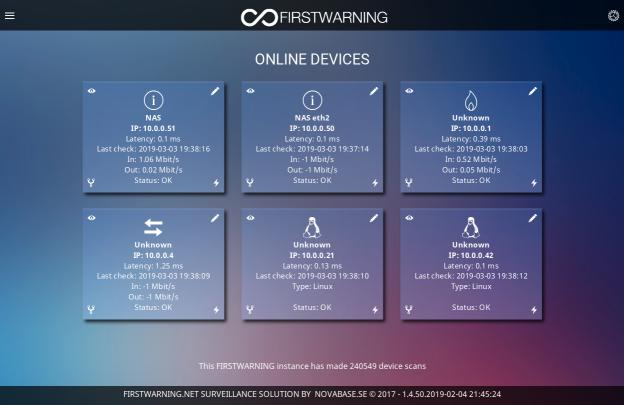 (Actual screenshot from FIRSTWARNING)
Even when failure happens – Be Proud of Your Work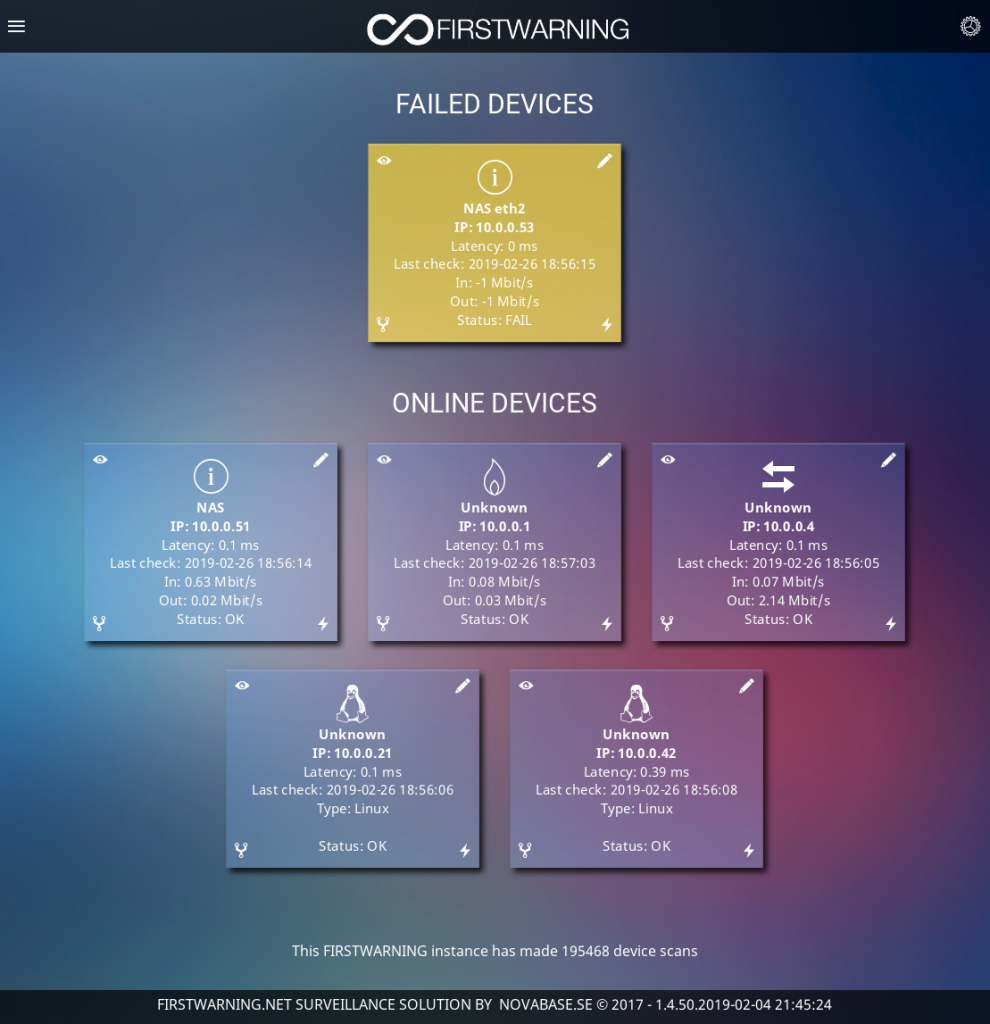 (Actual screenshot from FIRSTWARNING)
If some device fail, colleagues will ask you why it failed.
You can tell them that you are working on it and have it under control because you already knew about the failed device.
Firstwarning had already notified you by Telegram and E-mail. A win/win solution.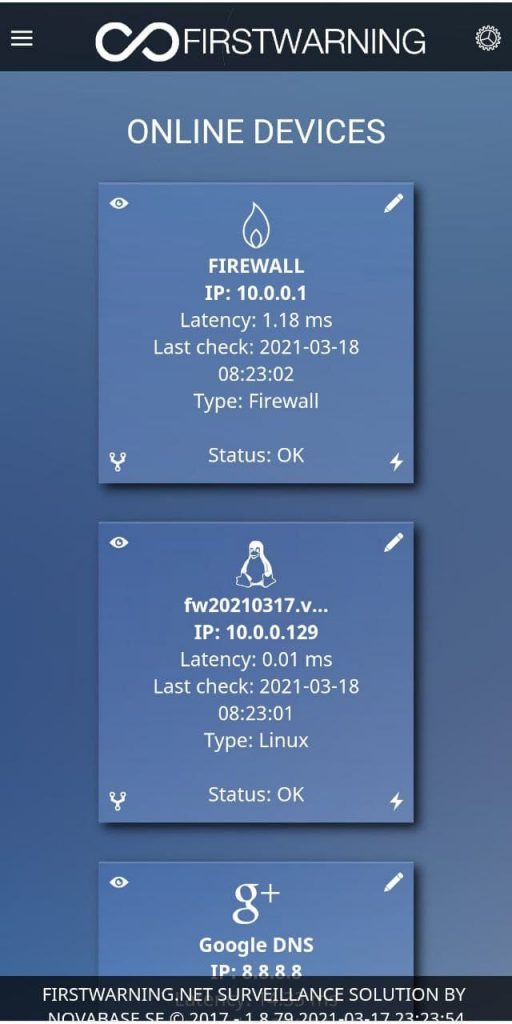 See your devices in your phone. Get notified in your phone when something happens.
FIRSTWARNING displays a really nice looking webpage and it's made responsive. It will look great on any device!

(Actual screenshot from FIRSTWARNING)
Statistics over time
Statistics over time is stored for every individual device.
(Actual screenshot from FIRSTWARNING)
Scan your network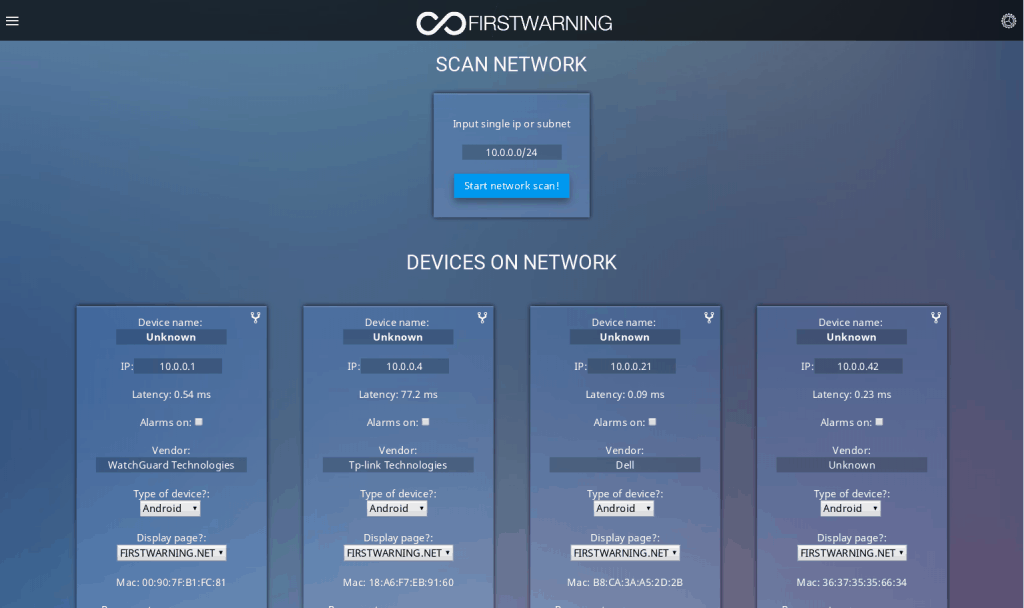 Do you know what kind of devices you have in your network? Do you know how to find out? With FIRSTWARNING you can find all devices. FIRSTWARNING have scanning capabilities, just input your ip-range and press start. FIRSTWARNING makes a list of all devices and presents them to you.
Join
Join our Telegram channel or group and you will be notified of news and what's up next with FIRSTWARNING